About us
Cyrillic Domain Zone (.РФ) Branding
Cyrillic Domain Zone (.РФ)
Logo and Corporate Identity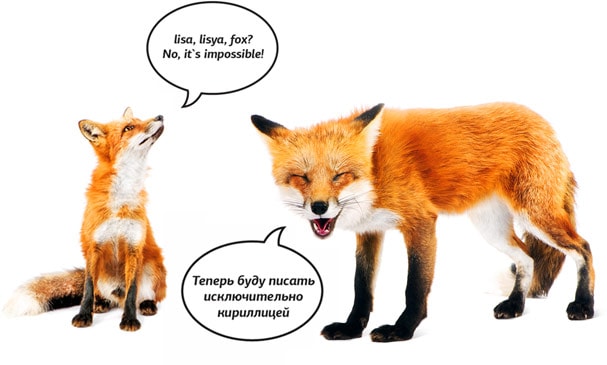 Year Marked by .РФ
The introduction of Cyrillic domain zone (.РФ) and its rapid growth that followed is by all means one of the most important achievements Russian internet has made throughout its history. Russia has become the first country to have its 'native-speaking' web space

The popularity of the national domain proves that people are willing to get back to traditions, even when it comes to such innovative and technological fields as internet and global communications.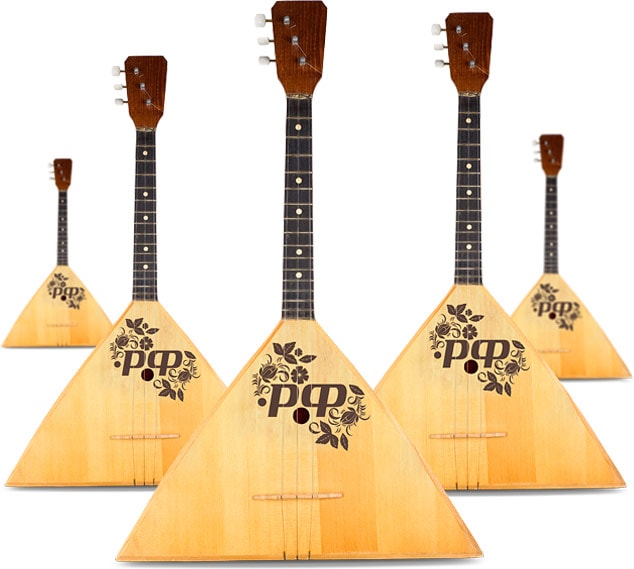 Recognition
The national domain's logo is designed to be used by domain industry players, as well as all those who help to divulge and expand native-speaking web communication. The introduction of. РФ domain zone has reflected the self-identification process of Russian web segment, with its innate global values underlying the logo creation.
This recognizable logo will help the national domain to unite millions of Russian web users across the world.
This logo can be used for any graphic products related to the national domain — official documents, press releases, presentations, websites, banners, print products and clothes. The mass usage of this logo in various communication environments will help to forge the domain's social popularity.
Concept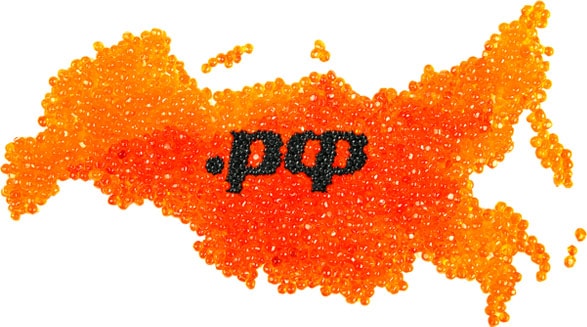 The national domain's logo consists of original font and a set of supplementary visual images associated worldwide with Russia, its history, culture and achievements.
Depending on certain tasks, the images integrated in the logo can serve to transmit various emotions, while its style can vary from severe and official to informal and spontaneous.
Using these images in advertising materials and everyday work will help to achieve a high level of ideological and graphic perception, as well as clearly communicate the national domain's ideas to mass audience.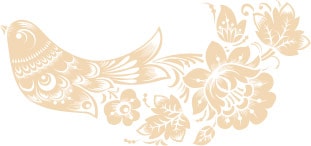 Variation
Russia is a country with unique traditions and culture, duly recognized and expected around the globe. Visual images of this logo appeal to original Russian arts — khokhloma, gzhel and traditional Russian embroidery. Recognizable, hallmark and reflecting Russian distinctive character, they continue to influence worldwide art and fashion trends.
The logo of .РФ domain is to be used only horizontally — yet it can be rotated by 90° or against the clock.
The logo's basic variants are designed for various advertising media and application techniques.
Full-color logo
For all communication environments
Black logo
For colored backgrounds and background images
White logo
For colored backgrounds and background images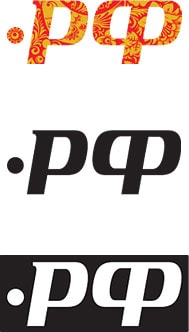 Personalization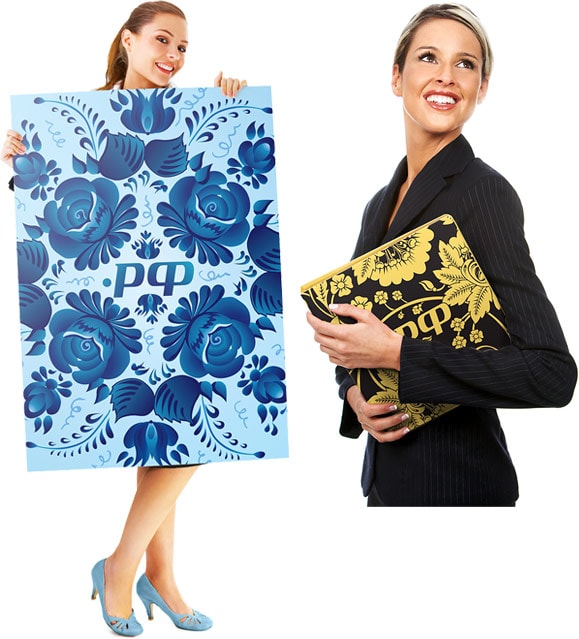 This logo together with a supplementary set of branded patterns can be used to accomplish a variety of tasks and easily adapted for any advertising media. The domain's corporate gifts will always be bright, distinguished and eye-catching.
You can use various patterns and ornaments, the basic recommendation being to use identity elements related to Russian culture and traditions.

Integration
The national domain zone can now be easily integrated into any manufacture
or industry, including civil aviation.
Ultimate

Traditions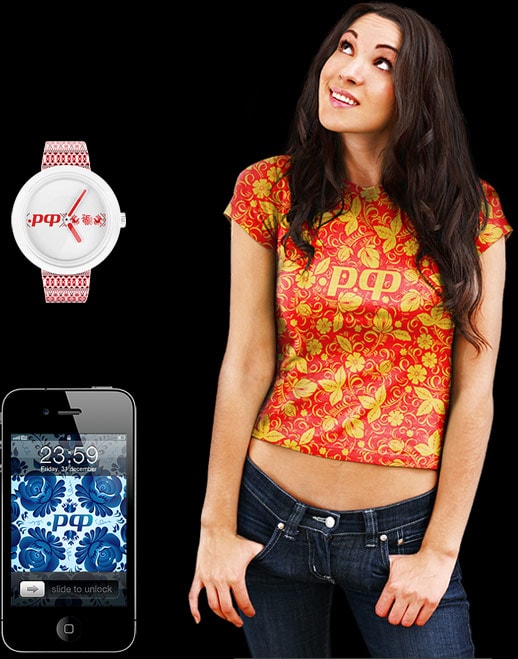 Russian national culture and traditions are now associated with ultimate technologies and devices. Anyone using branded .РФ gadgets is sure to look status and modern a priori.

Color
This logo can be used in specified original colors.
These colors can also serve for broader tasks, such as presentations, print products, multi media, online media, etc.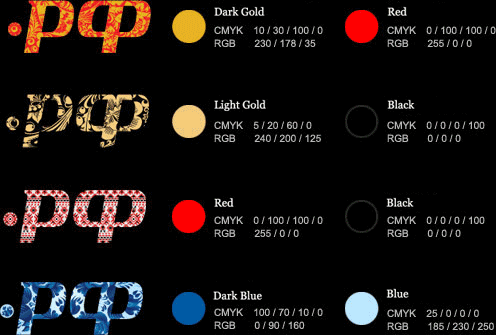 Guideline
Do no change the logo
No warping (compression, expansion,
line weight or proportion modification) is recommended with the exception of uniform scaling.

Do not interchange the elements' position
When using the logo, do not add or remove any elements. Mirroring
is not recommended either.

It is recommended to use this logo with specially designed corporate colors

Popularity
The success of national Cyrillic domain zone has become a driving force for creating a variety of screensavers and branded wallpapers for download, available for different communication devices.
Russian

Means Fancy

Russian national traditions — including khokhloma and gzhel — have always been a fashion trend around the globe. Russian motives are frequently used by the leading fashions houses in their collections.

For those who have a fine appreciation of time and prefer to surf the web in their native language, REG.RU offers a special edition of iPhones with ultra modern design by DENIS SIMACHЁV — SimaPhone 4 .РФ